Tumblers Club
TUMBLERS CLUB


OH DEER!
from our Hon Tumblers' Reporter

The Belvoir Hunt Tumblers Club is now in its fourteenth season. It is an elite society with membership restricted to those who hit the ground unintentionally. Over 18s will have to pay £10 if they were an unseated rider or £5 if their horse falls. At the end of the season, there will be an award given at the End of Season Supper of the much coveted
Belvoir Tumbler of the Year
as well as other novel classes that will change annually. For under 18s there will be an optional joining fee of £5 and all Pony Club members who have subscribed will be awarded their prize, if too young to come to the supper, at Pony Club camp.
Our eagle-eyed spotters-in-chief (Sarah McCorquodale, David Applewhite, David Selby and David Bellamy) have marshalled a formidable network of informers and will catch you out. They reserve the right to determine who was actually at fault – you or your horse or an Act of God – and have been known to suppress publication of particularly embarrassing incidents on receipt of financial inducements (a minimum of
double
the fallers fee – and payable promptly). Anything photographed will need a supplementary incentive to keep it out of the end-of-season Tumblers Corner photo gallery.
The spotters also keep their eyes peeled for an assortment of misdemeanours: venial sins such as blocking the road, poor parking, sneaking through farmyards without a lead from the Field Master, splintering woodwork, looking grumpy ... you name it and it is probably already in The Black Book ... can be absolved or even hushed up via ££inducements to our venal spotters. Grave sins such as quietly abandoning a demolished gate when there is stock in the field have a wickedly eye-watering tariff – so beware.
Any appeal against the judges' decision must be accompanied by a non-refundable deposit. The Club Rule Book (essentially Mornington Crescent rules) and full tariff of inducements, incentives, enticements and deposits is available for a fee.
Please post your payment to the Kennels at the address given on the
Contact
page – cheques payable to 'Belvoir Hunt Supporters Club' (note: not 'BHSC').
The 'Steeple Fund' thermometer below keeps a running total of contributions. Half the proceeds will be donated to the Lincolnshire & Nottinghamshire and the Derbyshire, Leicestershire & Rutland Air Ambulance services at the end of the season.
Please note: tumblers and sinners continue to be observed by our spotters and logged. The ranked list is currently not being published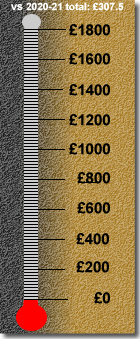 NAME


UNSEATED
RIDER

HORSE
FALLEN

£ OWING

£ PAID

£ TOTAL

£RANKING

WHO WILL BE FIRST?
Once more into the ditch dear friends, once more (W. Shakespeare - 1599)

Details of fallers are updated weekly
to give an opportunity to ££persuade the spotters that they were mistaken
NAME
WHEN

MEET

SIN

£
OWING

£
PAID

£
TOTAL

WILL IT BE YOU?
BIG sin....